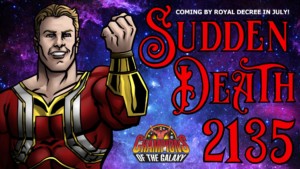 The king has spoken!
Godsend has declared SUDDEN DEATH is coming  back to the GWF in 2135! But what will be the "rules according to Godsend?"
Meanwhile Nightmare and Maramus are leading a revolution against the Kingdom of Castilex. Who will they add to their team of insurgents in 2135? Can they be successful against not just Godsend, but GODSEND?
You'll get all the answers in July when SUDDEN DEATH 2135 is released exclusively at GalactiCon (watch for info on that too!) and then mails to loyal game fans throughout the galaxy.
Get psyched! Your favorite team of Tom, Darryl, and Werner will be working overtime to bring YOU another amazing chapter in GWF history. Then there's NEXT YEAR – the 50th anniversary game edition for CotG!
It'll be a cosmic spectacle beyond words and it starts this summer with SUDDEN DEATH 2135. Can Godsend survive?