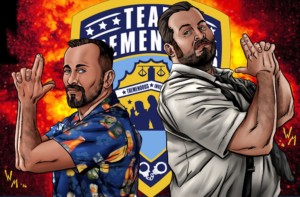 EVOLVE is known for its technical wrestling expertise. But the promotion is also known to feature some of the more entertaining acts in wrestling and the newest additions to the EVOLVE 3 game certainly fall in that category. Team Tremendous is comprised of Detectives Bill Carr and Dan Barry, and every match they have is part investigation and all fun. Team Tremendous has been part of EVOLVE
since late 2015 and has challenged for the EVOLVE tag team titles earlier in 2016. Fans are hoping to continue to see them as part of the tag team scene going forward, among other major promotions throughout the independents.
The EVOLVE 3 game is available for preorder RIGHT NOW as part of the 2016 Spring Fever Package with CAC Reunion 2016 and 80's Mania Wrestling Part II right HERE or on its own HERE. Games will begin mailing on April 20!