AJ Styles Enters Ring of Honor With a Bang!
Categories: Ring of Honor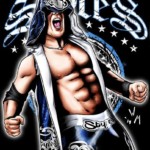 Here's the second cart for AJ Styles and it's an awesome hooded version of the Phenomenal One!
You have your pick of AJ Styles cards or get them both for a discount! He'll bring his incredible (-4) agility to ring action. Will he hurdle to the top of Ring of Honor right away? It'll be up to you as the booker!
The card stats on the two cards are different just like the cart art.
You can also use AJ Styles in other game promotions from Legends to CZW. Oh heck, put him in the GWF and see how he does against aliens!
Go here to order! The cards will start mailing on February 1 so don't hesitate…the Phenomenal One awaits you!