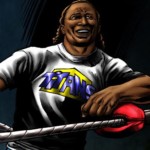 LORD NEXUS made his triumphant return to the GWF in BLACK DEATH 2129 and now he's getting his official manager card in our extra BLACK DEATH 2129 6-pack!
As you know, LORD NEXUS is a man of honor so he won't indiscriminately interfere in matches or cause a ruckus. You'll see the LORD NEXUS interference chart when you order the new 6-pack!
NEXUS will be managing the newly revitalized Titans team, in fact it gets even better with TAICHI joining the women's ranks!
You can pre-order the BLACK DEATH 2129 6-pack on November 29 and the game starts mailing on December 16. It's a first for Champions of the Galaxy—a mini-pack in mid-game-year! That's because there's SO MUCH going on in the BLACK DEATH era! Don't wait—pre-order on November 29 along with our other great games!