Take a Trip Back in Time With Retro Anthony Greene!
Categories: Uncategorized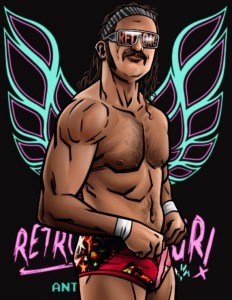 The third wrestler in the Best of the Indies 2019 set is the Leader of the Fanny Pack himself Anthony Greene!  Retro AG's fashion sense seems to be stuck in the 80's with him usually sporting zubaz, but his wrestling style is making him one of the hottest wrestlers on the indies today.  Greene has had success throughout the New England area and has now started to receive more national exposure through his performances at Beyond Wrestling and EVOLVE.  Although he is often accompanied to the ring by some lovely ladies, Anthony Greene's success has been all his own and his is out to prove that the past is the future!
Anthony Greene joins Josh Briggs and Robbie Eagles in the Best of the Indies 2019 8-Pack.  The set will debut in September alongside the Women of the Indies 2019 8-Pack which features 8 of the top female indie wrestlers in 2019.