FIP Champion Austin Theory Joins the EVOLVE Roster!
Categories: Evolve Wresting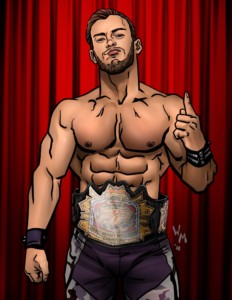 The past year has been an impressive one for the strong, agile newcomer from Georgia.  Theory started within the WWN Live family making a splash in Full Impact Pro before making his EVOLVE debut in February 2017 in a winning effort over Darby Allin.  He struggled a bit in the springtime, before partnering up with the cunning Priscilla Kelly and going on an impressive winning streak, culminating at EVOLVE 97 where he beat Fred Yehi for the FIP World Heavyweight Title.  This past weekend, one year after his EVOLVE debut, he challenged EVOLVE champion Zack Sabre Jr.  Although he was unsuccessful in winning the EVOLVE title, he still reigns as FIP champion and will surely once again get a title shot at the EVOLVE champion.
Austin Theory will join Dominic Garrini and 6 other wrestlers in EVOLVE 5.  The game will be released at the WWN Live Experience in New Orleans in April and will mail out to Filsinger Games fans worldwide soon thereafter so get your EVOLVE promotion ready!