Milwaukee's Best Wrestler Comes to the ROH Game!
Categories: Ring of Honor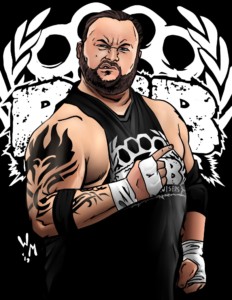 The next wrestler in the upcoming Ring of Honor expansion pack is one of ROH's largest competitors, The Beer City Bruiser!  The 300-pound beer swigging, stogie chomping brawler initially made his mark in Ring of Honor as part of the 2015 Top Prospect Tournament.  Since that time he has formed a partnership with fellow Wisconsin native Silas Young, and the duo is consistently one of the top tag teams in ROH.  While they haven't won the ROH Tag Team Championships yet, they did win the 2016 Tag Wars tournament and its only a matter of time before they are back in the mix for the gold.
The Beer City Bruiser joins Jay White as part of an 8-card Ring of Honor game pack being released this holiday season along with the newest Legends of Wrestling 12-pack and the new Champions of the Galaxy FTR game.  Preorder begins on Black Friday November 24th and games will be mailed by December 12th!