The Best of the Indies Roster is Flyin High With Brian Pillman Jr!
Categories: Uncategorized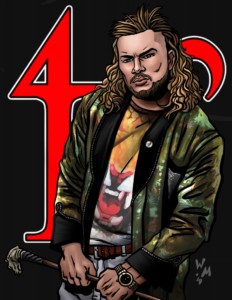 Following in his father's footsteps, Brian Pillman Jr. has taken the pro wrestling world by storm since his debut 2 years ago, and now he is part of the Best of the Indies 2019 8-pack.  While many in his position could try to coast by with their name, Pillman sought out the best training in pro wrestling and has honed his athleticism to become a top tier performer and is looking to forge his own path to success.  He has recently started teaming with a duo of other wrestlers with a storied legacy in the business, Davey Boy Smith Jr and Teddy Hart.  With hi skills and the backing of some experienced performers, Pillman is certainly on the road to wrestling stardom.
Brian Pillman Jr. joins Tom Lawlor, Mance Warner, Josh Briggs, Anthony Greene, Curt Stallion, Wheeler YUTA and Robbie Eagles in the Best of the Indies 2019 8-Pack.  The set will debut alongside the Women of the Indies 2019 8-Pack which features 8 of the top female indie wrestlers in 2019.  Both games are available for preorder now, by going HERE.  Games will ship by September 30th.