Bring in the Clowns! Brothers of Funstruction Coming to Freelance Game Pack!
Categories: Uncategorized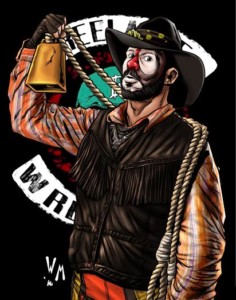 We're not clowning around!
Freelance Wrestling has some outlandish characters, but perhaps the oddest are the tag team of Yabo the Clown and Ruffo the Clown. Once a rival of Yabo the Clown, Ruff Crossing donned the clown makeup and joined forces with Yabo as Ruffo the Clown, forming the tag team of the Brothers of Funstruction.  The duo are naturally clowning around during the match, but have the skill to compete on the competitive Freelance tag team scene.
What  tricks will Yabo and Ruffo play in your promotion?  Will they challenge for the tag titles or prefer to just cause mischief?  Find out when the Freelance Wrestling game is released in March!