Cedric Alexander Breaks Out in the FINAL BATTLE Pack!
Categories: Ring of Honor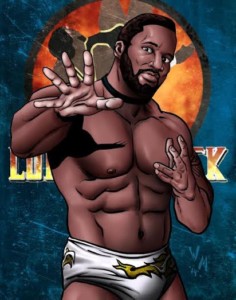 When you think of Ring of Honor's future there are some names that instantly come to mind, and if one of those isn't Cedric Alexander, then the future may very well pass you by.
For years, Cedric Alexander has learned the ropes as a tag team wrestler as one half of C&C Wrestling Factory with Caprice Coleman. Hungry for new challenges, now he prepares to embark on his first singles run in the Ring of Honor wrestling game!
Can Cedric Alexander reach the top of your Ring of Honor fed with his exciting new singles card? Push Cedric to new heights vs. the best singles champions on your roster, or relive the awesome Roderick Strong vs. Cedric Alexander feud of 2013 that put
Alexander on the singles map! Can Roderick Strong deal with Cedric Alexander using his very own STRONG HOLD in matches against him? Find out when you receive the Final Battle 8-pack this winter!
Mark Black Friday on your calendar because that's when you can PRE-ORDER the new ROH: FINAL BATTLE pack! Orders will be mailed out in the order we receive them and this game, along with LEGENDS 14, will begin mailing on December 19, in time for the holidays! Incredible body slamming game action awaits you!