CHIKARMY 2 is UnStable!
Categories: Chikara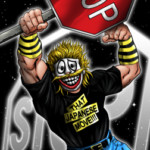 Last year Filsinger Games and CHIKARA teamed up to host a huge fan poll where the most loyal fans in wrestling voted on who should be included in the next two CHIKARA 6-packs. The CHIKARMY 2 6-pack features the second set of 6 CHIKARA fighters Including VIN GERARD and STIGMA aka the UnStable! The UnStable form one of the most nefarious tag teams in CHIKARA history!
But there's more! Also included in CHIKARMY 2 is STIGMA's original alter ego, SHANE STORM! Shane Storm is a popular Tecnico while STIGMA is a dastardly Rudo! Here's your chance to relive CHIKARA history or re-write it yourself! The possibilities are endless!
CHIKARA is never dead here at Filsinger Games! These cards will be collector's items like all our awesome CHIKARA card sets! CHIKARMY 2 starts mailing on October 15…watch for news on how to pre-order!