Coming to ROH: The Greatest Man to Ever Live!
Categories: Ring of Honor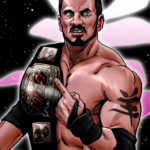 "The Greatest Man to Ever Live" AUSTIN ARIES caps off the greatest ROH expansion ever, the ROH Legends of Honor 6-pack! AUSTIN ARIES is the only two-time ROH World Champion in history, so you know he'll be tough! Can he capture ROH gold in your fed with his two potent finishers – BRAINBUSTER and his risky yet highly effective 450 SPLASH!? Aries has a lot of enemies waiting for him in the ROH Wrestling Card Game. Austin Aries vs. the Age of the Fall, Tyler Black and Delirious are just a few of the epic feuds promoters will be itching to book right away when AUSTIN ARIES arrives in December! In addition to Austin Aries, the ROH Legends of Honor 6-pack
also includes the King of Wrestling (Chris Hero and Claudio Castagnoli), Necro Butcher, Red Poison Delirious, and Tyler Black. It's an all-star lineup! The ROH Legends of Honor 6-pack starts mailing on December 16! Pre-orders begin on November 29 and the new game pack will make a live debut at ROH: Final Battle at the Hammerstein Ballroom in Manhattan, New York on December 14!