Criminal Justice Will Be Served When They Invade Your Promotion!
Categories: Company News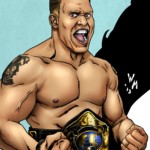 Criminal Justice will be served! "Luscious" Rocky Reynolds and "Black Sheep" Benett Cole are serving notice that the tag belts in ANY promotion won't be safe! They are going to "lay down the law" and take MANY prisoners! Rocky Reynolds has had success in several eastern wrestling promotions and is a 4-time NWA World Junior Heavyweight Champion! He traveled to several NWA territories to defend the title.
He has also wrestled for Heavyweight belts and Tag Team belts, winning tag gold recently with partner Black Sheep Benett Cole! The Dark Menace is as arrogant as ever: "We'll invade ANY territory and no one will forget us! The Darkness is coming…and what can you do about it?" Watch for DARK MENACE FORCES 6-Pack to being mailing on Sept 23! Order NOW to make sure the invasion starts early!