The Lone Star Comes to the Best of the Indies Game!
Categories: Uncategorized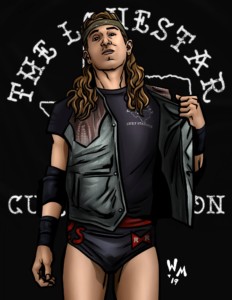 The 5th man to be a part of the Best of the Indies 2019 lineup, is the Lone Star Curt Stallion!  Stallion grew up in Texas and began his training there before relocating to St. Louis to broaden his career.  The past few years Curt has become a major road warrior appearing in promotions all over the Midwest and Southern US, capturing gold in many prominent indies along the way.  He first appeared on the Nation scene as part of the 2017 ROH Top Prospect tournament. Starting in late 2018 Curt Stallion made the jump to EVOLVE, where he is now a featured performer for the company.
Curt Stallion joins Mance Warner, Josh Briggs, Anthony Greene and Robbie Eagles in the Best of the Indies 2019 8-Pack.  The set will debut in September alongside the Women of the Indies 2019 8-Pack which features 8 of the top female indie wrestlers in 2019.  The games will be available for preorder next Monday September 2nd.