Da Hit Squad to Brutalize CZW Tag Team Ranks!
Categories: Uncategorized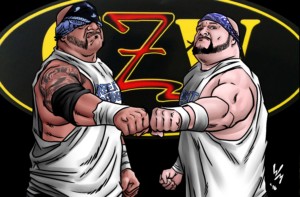 The last two spots in the 4th edition of the Combat Zone Wrestling game are the current CZW Tag Team Champions, Da Hit Squad!  Dan Maff and Monsta Mack are veterans of the Northeast area tag team scene.  For over 10 years they have been winning tag team gold and making a name for themselves throughout New Jersey/New York area.  The two men are large, but have been known to fly and really do damage to their opponents.  Just when it looked like Da Hit Squad had their last run, they made a comeback in 2016 and won the CZW tag team titles, further cementing their legacy!
Will Da Hit Squad find the same glory in your CZW fed?  What other great indie tag teams will you book them against?  CZW Set 4 begins mailing on October 31st.  Preorder the CZW Set 4 game now by clicking here.  Also available for preorder is Shimmer Volume 4, which is available here. This game season is going to rock!