The Darkness Descends: Dark Menace Forces Ready to Pre-Order!
Categories: Company News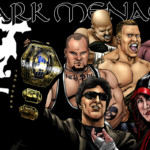 Here comes sildenafil-citrate 10-20 mg a team that's ready to invade ANY promotion! It's DARK MENACE FORCES led by nefarious manager the Dark Menace! This 6-pack includes playing cards for "Luscious" Rocky Reynolds and "Black Sheep" generic cialis canada Benett Cole (who form a tag team called Criminal Justice), Laura Phoenix, "Lone Wolf" Rex Havoc, and "The Morning Star" Michael Kai Rayne! You'll also get a game card for the Dark Menace and he means business! He can
interfere in matches and attack opponents outside the ring! DARK MENACE FORCES represents a team of wrestlers that Tom Filsinger aka the Dark Menace has managed in his legendary career that began in 2006 and continues to this day. The Dark Menace has big plans to disrupt your feds! He'll attack with his Forces team and he'll also try to recruit talent in the promotions he invades! Look out, this guy aims to turn things upside down! The Dark Menace has this to day: "We're not fooling around! Our goal is buy generic cialis canada online total chaos. I've got two great singles wrestlers in the Lone Wolf and The Morning Star as well as a great tag-team in Criminal Justice (Luscious and Black Sheep). canada cialis Throw in a great female star in Laura Phoenix and we'll be a major force no matter where we wrestle!" Left to right in promo pic- Front row: Menace, Phoenix. Second row: Cole, Reynolds. Top row: Rayne, Havoc. DARK MENACE FORCES starts mailing on Sept 23. Order yours now by going here!