Dark Menace Forces Caught on Video!
Categories: Company News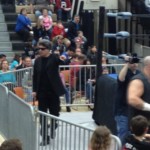 The invasion is on!
The tag team champions Criminal Justice (Rocky Reynolds and Benett Cole) were in action earlier this year along with the Dark Menace in Jamestown, New York. Naturally they won their match and retained the belts! The Dark Menace even threatened a fan at ringside!
You can check out the pre-bout video right here and be sure to order DARK MENACE FORCES, a new 6-pack that is taking the wrestling world by storm! Go here to see the Dark Menace along with Criminal Justice!