Deonna Purrazzo Leads Women's Wrestling Revolution in Beyond Wrestling!
Categories: Uncategorized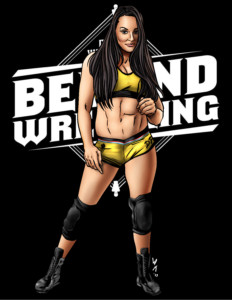 In 2016 Beyond Wrestling management started promoting a sister promotion to showcase the best female talent in New England and throughout the US.  That promotion is Women's Wrestling Revolution.  The shows have received praise from many in the industry, and it only makes sense to highlight some of the top talent in our Beyond Wrestling set! When it comes to the fastest rising stars in women's wrestling, one that jumps to the top of the list is Deonna Purrazzo.
Deonna Purrazzo has only been wrestling for a few years, but has already made a big name for herself, not only throughout the independents, but also wrestling televised matches for every major US promotion in 2016.  The New Jersey native has a technically sound style and infectious charisma that has garnered her a ton of fans.  There is no telling the heights her career will reach.
To see the incredible card art for Deonna Purrazzo, check out the Filsinger Games Facebook and Twitter feeds.  Deonna joins JT Dunn and Brian Fury in the 8-card Beyond Wrestling set that will debut in February.  Stay tuned for more exciting names that will be joining them!