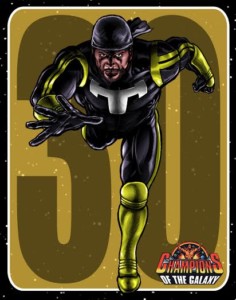 The big 30th Anniversary game pack is coming in July and a different version of Lord Nexus leads the charge!
This Lord Nexus may well have jumped out of the pages of a comic book. His moves like "Superhero Soar" and "Aerial Dynamite" will pack a punch! Gone are two TITAN DROP finishers. This version of Lord Nexus finishes business with his AVENGER SLAM!
Who will win when you pit the original Lord Nexus against the "true original" first version coming in July? You'll find out! You can also schedule a big battle between the 30th Anniversary Lord Nexus against sworn enemy Invincible Krakan!
You've now seen "original" unused concepts for Commander Sam and Lord Nexus that were brewing in Tom's mind three decades ago. Who is coming next? A hint: it's two villains. You'll get 4 "original concept" cards in the 30th Anniversary pack with design and card stats by Tom and drawn by Darryl Banks, as well as 2 "missing" cards from the original 1987 game by Tom and Chuck Carter.
WHAT A GREAT SUMMER!