Its time to get the party started…DJZ is coming to the EVOLVE game!
Categories: Evolve Wresting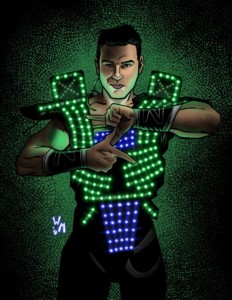 The EVOLVE game is ready to have the volume turned up loud with wrestling's preeminent DJ set to join the roster, DJZ!  This Filipino born wrestler has been wrestling for a number of years under s few different names and for a number of high profile companies.  But recently he joined the EVOLVE roster and has already made a splash.  Decked out in his new space-age entrance outfit, he is sure to catch the eye of EVOLEV fans on his way to the ring.  But its his high-flying abilities in the ring that will truly make him memorable to fans.  Although his record thus far in EVOLVE has not been stellar, given his experience and charisma, DJZ is bound to start winning matches along with the accolades of fans.
DJZ will join Matt Riddle, Austin Theory, Dominic Garrini, and 4 other wrestlers in EVOLVE 5.  The game will be released at the WWN Live Experience in New Orleans in April and will mail out to Filsinger Games fans worldwide soon thereafter. Get indie promotion ready to EVOLVE!