What if DOOMSAYER never turned to a life of crime?  What if his gifts were directed in a more positive direction and the accident that crippled him never happened?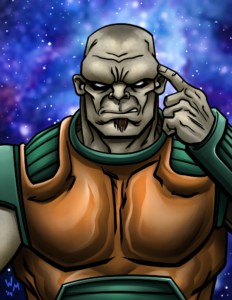 DOOMSAYER'S impressive intellect makes him a dangerous foe and a crafty manager.  But who will he manage?  What is his beef with the Minister of War and the Gladiators of Aethra?
FUTURE SHOCK:  Centra Wrestling Federation 2115 is a 14-card set including LANCE AT-LAS, MISTER CENTRA, SABOTEUR, ORACLE and DOOMSAYER.  In order to play this game edition, you will need nine other previously released cards, which can be ordered separately in the Future Shock Bonus Pack for people who do not own the 2129-2131 GWF game editions.  Both the new game edition and the Bonus Pack can be ordered HERE and will begin shipping on May 28th.
One customer who preorders the game will be chosen AT RANDOM to receive a proof copy of the game. These proof copies sometimes contain formatting errors or text that was changed at the last minute and have never been offered outside of special auctions at GalactiCon.  This collector's item will go to one lucky promoter who preorders before May 15th.  Don't miss your chance for this great piece of memorabilia.  Order NOW!