As most of you know I've been playing two game feds for a long time: First my Champions of the Galaxy fed which I've played since 1988 and featuring over 850 fight cards and over 6,000 matches. Then there's my Legends of Wrestling federation which I've been playing since 2003.
It's not always easy to find time to play these feds but I'm about to compound the problem by adding a new one…drum roll please…Dark Menace Promotions! This'll be my wildest yet!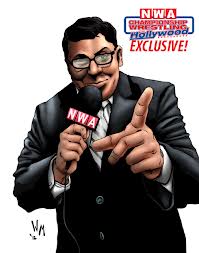 DMP is a fictional wrestling promotion founded and funded by the nefarious Dark Menace who not only loves Indy wrestling but loves money and power even more and aims to use DMP as a vehicle for his own secret ambitions. But not so fast! The Dark Menace has hired David Marquez, known for his work with Championship Wrestling from Hollywood, to be the main announcer and organizer but Mr. Marquez is going to give him more than he bargained for! David insists on doing things by the book and has challenged the Dark Menace on his own turf. The Dark Menace sees this as an amusing challenge and the battle is on!
The Dark Menace and David Marquez have recruited some of the top Indy talent in the world to join DMP. The Dark Menace has started by bringing in his heavy hitters: Kevin Steen, Mike Quackenbush, and the Briscoe Brothers. Not to be outdone Marquez recruited El Generico, Colt Cabana, and the World's Greatest Tag Team! These feuds are going to get ugly! Here is the rest of the roster:
DAVID MARQUEZ
The Colony (with Delirious)
FIST (Taylor and Gargano)
Willie Mack
2 Cold Scorpio
Mike Bennett
The Hobo
Arik Royal
Shane Hollister
Saturyne
THE DARK MENACE
Da Soul Touchaz (with C. Red)
SCUM (Jacobs and Corino)
Homicide
Ethan Page
Cedric the Hitman
de Coronado
Robert Anthony
Sara Del Rey

The ring announcer is none other than Gavin Loudspeaker who seems to share a secret alliance with the Dark Menace. Can David counter and win fan support?
Over ten Indy promotions represented in DMP! I'm using playing cards from RING OF HONOR, CHIKARA, CHAMPIONSHIP WRESTLING FROM HOLLYWOOD, and NATIONAL PRO WRESTLING DAY card packs in my fed.
The first step is to crown a Heavyweight Champion and Tag Team Champions. The Dark Menace has announced that a second singles belt will be added but he hasn't named it yet.
David insists he will "stand against abuses of power and corruption and shape DMP into an honorable wrestling promotion that showcases the best talent." The Dark Menace says he "sneers at such pompous and overblown bravado" and promises to "manage my stable to the top."
To really rile the Dark Menace David Marquez has promised that DMP will eventually stand for David Marquez Productions. Will he turn out to be right?
The battle is on! Watch for the start of DMP action! It'll be wild and off the wall, a departure from my other two game federations. I'll be reporting results soon…