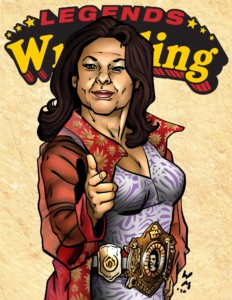 Perhaps the greatest women's wrestler of all time has joined the Legends roster!  To many historians, The Fabulous Moolah is synonymous with women's professional wrestling, as she was the most prominent name in the sport for decades.  Starting in the 1940's as Buddy Roger's valet she went on to win the most prestigious version of the Women's World Title relatively quickly, and defended against all of the women's headliners of the day.  She continued to be a top name in women's wrestling until the 1980's.  There are plenty of women in Legends who will be looking to take down Moolah.  Who will you book her against first?
Fabulous Moolah joins Joyce Grable, Candi Divine, Susan Green and Beverly Shade in the Legends Ladies II 8-pack.  Preorders are now available for Legends Ladies Expansion II, Future Shock: Centra Wrestling Federation 2116 and Best of Mexico Indies set!  To preorder now CLICK HERE.
Also Promoter prime for 2020 is now available to preorder. Q1 2020 for Legends Prime features Vampiro and 2 other Mexican Legends.  To preorder any Promoter prime product CLICK HERE.
Preorders for all game editions will begin mailing by March 31st!