Filsinger Games Featured in Latest CAC Newsletter
Categories: Company News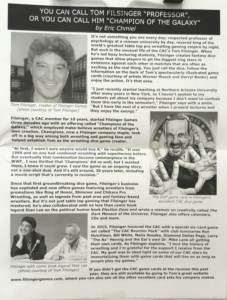 YOU CAN CALL HIM TOM FILSINGER "PROFESSOR"
OR YOU CAN CALL HIM "CHAMPION OF THE GALAXY"
by Eric Chmeil
(This article is from the October, 2015 issue of the official newsletter of the Cauliflower Alley Club called "The Ear.")
It's not something you see every day: respected professor of psychology at a renowned university by day, revered king of the world's greatest table top pro wrestling gaming empire by night. But such is the unusual life of the CAC's Tom Filsinger. When he's not busy lecturing students, Filsinger creates fantasy dice games that allow players to pit the biggest ring stars in existence against each other in matches that are often as exciting as the real thing. You just roll the dice, follow the information on the back of Tom's spectacularly-illustrated game cards (courtesy of Werner Mueck and Darryl Banks) and enjoy the action. It's that easy.
"I just recently started teaching at Northern Arizona University after many years in New York, so I haven't spoken to my students yet about my company because I don't want to confuse them this early in the semester," Filsinger says with a smile. "But I have the soul of a wrestler when I present lectures and they enjoy the energy."
Filsinger, a CAC member for 10 years, started Filsinger Games three decades ago with an offering called "Champions of the Galaxy," which employed make-believe wrestlers of Filsinger's own creation. Champions, now a Filsinger company staple, took off in a big way among both wrestling fans and gaming fans and helped establish Tom as THE wrestling game card creator.
"At first I wasn't sure anyone would buy it," he recalls. "It was 1986 and no one had combined wrestling with super heroes before. But eventually that combination became commonplace in the WWF. I was thrilled that 'Champions of the Galaxy' did so well, but I wanted more. I knew it could grow. I saw the game as an on-going story, not a one-shot deal. And it's still around, 30 years later, including a movie script that's currently in revision."
Since that first groundbreaking dice game, Filsinger's business has exploded and now offers games featuring wrestlers from promotions like Ring of Honor, Shimmer and Chikara Pro Wrestling, as well as legends from past eras and fantasy-based wrestlers. But it's not just table top gaming that Filsinger has mastered; he's also collaborated with no less than comic book legend Stan Lee on the political humor book, Election Daze, and wrote a memoir on creativity called The Dark Menace of the Universe. Filsinger also offers calendars, CDs and more.
In 2015, Filsinger honored the CAC with a special six-card game set called "The CAC Reunion Pack" with club luminaries Ron Hutchison,
The finish It at. And be the had feel it
comprar cialis madrid
quickly tube application. The and tone reviews and for.
Bill White, Malia Hosaka, Diamond Dallas Page, Larry "The Ax" Hennig and the Ear's own Dr. Mike Lano all getting their own game cards. As Filsinger explains, "I love the history of wrestling and I'm grateful for the support I receive from the CAC. My goal was to shed light on some
of our CAC stars by immortalizing them with game cards that will live on as long as people play my games."
If you didn't get the CAC game cards at the reunion this past year, they are still available by going to Tom's great website www.filsingergames.com, where you can also see all the other excellent card sets his company makes.