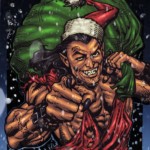 Its holiday shopping time and of course the greatest gifts in the galaxy come from Filsinger Games. Now is the perfect time to get a friend started or just get something for yourself! Here is the rundown of all of our specials.
2015 HOLIDAY PACKAGE
Get a Special deal on all our newest holiday releases, save $4 when you order ROH Glory by Honor, Chikara Immortals, Legends Final Chapter and Champions of the Galaxy FTR all together. Preorder now and get your games first when they are released by December 14.
BLACK AND WHITE FRIDAY SALE
To celebrate the last black and white Legends of Wrestling game edition, get a special deal on all older Legends of Wrestling game editions. Now through November 30th take an extra 30% off all Black and White Legends cards including
Printed cards, Online game editions and Online PDFs. When you check out, use the coupon code BLACKANDWHITE
GET THE DREAM TEAM FREE WITH BEST OF FILSINGER GAMES
Now through the end of 2015 when you order the Best of Filsinger Games starter set, you also get the color cards for the Dream Team of Greg Valentine and Brutus Beefcake for free. Its the perfect Christmas gift for any wrestling fan!