Filsinger Games Returns to the Pages of PWI!
Categories: Company News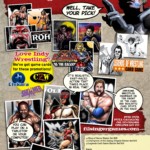 It all started 27 years ago.
The first Filsinger Games ad appeared in the pages of Pro Wrestling Illustrated in August, 1986. Many ads followed throughout the 80s and 90s which even resulted in a Filsinger Games ad being featured at the beginning of the movie, "The Wrestler."
Filsinger Games has returned with a new ad in the November issue of PWI which features the annual PWI 500. Be sure to pick up your copy today!
It's a historic return and proves once again that Filsinger Games is on the march!