Filsinger Games Will Participate in Tabletop Game Day on April 30!
Categories: Company News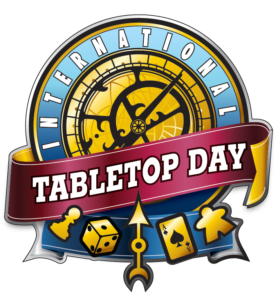 It'll be one of the coolest game days of all time!
International Tabletop Game Day is coming on April 30 and Filsinger Games fans can play along! You can visit your local game or comic book store and play our games, or invite some friends over and have a tournament! We will all be linked together via social networking and spreading Filsinger Games madness!
Events will include online tournaments, Google Hangouts, satellite conventions, and more! You can send us photos of your game table or tournament action and we will post on twitter and elsewhere!
Put aside April 30 on your calendar! Tell your friends, family, children, pets, that you will be unavailable that day because International Tabletop Day is a sacred holiday for game fans!
We'll provide more info about events as we get closer! Plan your event, whether it involves others or solo. Please contact Todd (todd@filsingergames.com) if you have a cool idea for a Filsinger Games event for that day! We will share game fan ideas in the days ahead!