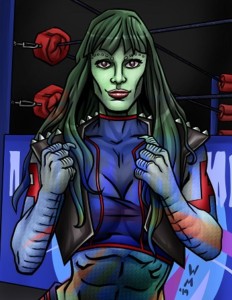 Fans asked for new FTR fighters, and Filsinger Games delivers them to you via Promoter Prime!
Chameleon is an opportunistic Aniwoman who prides herself on blending in easily with any partner and team.
Will she join Mayham and King Tux or go her own way? It's up to you, promoter!
Chameleon is not big, strong or fast. But she uses her natural chameleon abilities to easily blend into the ring and its surroundings. This gives her great advantages when she is thrown into the ropes, turnbuckle, out of the ring, or when an opponent attempts a deathjump, where she can quickly disappear into the landscape.
Wait until you hear about her tag finisher – BLENDING IN. It works with ANY tag team partner!
FTR is back! Look for a big update to an existing FTR hopeful next week!