Prepay for GalactiCon 2019 and Receive a Free Special Edition card!
Categories: Company News
The center of the Filsinger Games universe shifts to Eastern Pennsylvania the weekend of July 12-14 for GalactiCon 2019.  Our 30th annual game convention is coming to Malvern, PA on Saturday July 13th and 14th as part of a whole weekend of wrestling fun.
GalactiCon attendees who prepay the $25 fee by July 8th will receive a free copy of the AVALANCHE Kronos Special Edition card.  Other convention goers and fans unable to attend the event will be able to purchase the card separately after the con.  To prepay for the event, click on the link HERE.
Filsinger Games was both friends with and fans of the legendary King Kong Bundy. And King Kong Bundy was friends with Tom Filsinger and Filsinger Games. In fact, King Kong Bundy was the historic first ever Legends of Wrestling card. The card had such an impact it marked the beginning of the Legends of Wrestling game series that fans all over the world enjoy today.  Filsinger Games honors the memory of King Kong Bundy with a brand new colorized playing card of his infamous intergalactic persona in the Galaxian Wrestling Federation – AVALANCHE!  Avalanche hails from Wintuuw, a mysterious planet in the Draco system nicknamed Cloneworld by outsiders, and is ready to go to battle in your Kronos fed.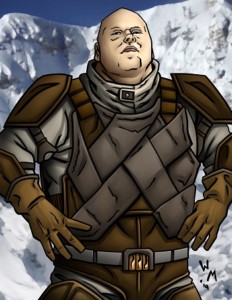 GalactiCon convention rates are still available at the Residence Inn by Marriott Philadelphia Great Valley/Malvern at 10 General Warren Blvd, Malvern, PA 19355.  The Residence Inn next door to the convention site will be offering a special rate of $124 to GalactiCon guests on Friday and Saturday night. The rate includes breakfast and all rooms come equipped with a full kitchen. The best part is the hotel is just a few steps from where the convention will be held on Saturday and Sunday.  You must book by June 16th to receive the special rate.  Click HERE to book.
A few tickets are still available for the Filsinger games section at the Reading Fightin Phils game on Friday July 12th.  After the game is a fireworks show and matches from CHIKARA Pro Wrestling.  Fans attending the game will also receive another free mystery limited edition card!  Filsinger Games has a special section reserved at the stadium in left field (Blue Marsh Insurance Foul Porch). The ticket also includes an all you can eat buffet (stationed right by our section). The buffet features BBQ Chicken, Hot Dogs, Hamburgers, Cheeseburgers, Baked Beans, Potato Salad, Tortilla Chips, Chips, Fruit, Cookies and Pepsi Products.  Tickets are $29 each and can be reserved by contacting Todd@filsingergames.com
Here is all the info on the convention itself:
Date/Time: Saturday July 13th 11AM – 5PM and Sunday July 14th 11AM – 2PM
Location: P.J. Whelihan's Pub & Restaurant , 12 General Warren Blvd, Malvern, PA 19355
Cost: $25 (2-day pass), includes food, drinks and dessert on Saturday
Featuring: Filsinger Games tournaments on both days, plus Trivia, Charity Auction, Q&A and more!
For more details go to the GalactiCon page of our website:  filsingergames.com/galacticon-2019/