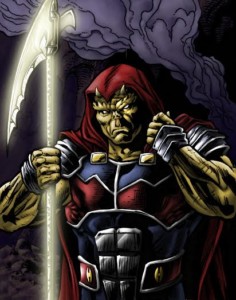 Finally we are being introduced to the man Harbinger was BEFORE he was possessed by Black Death. The name is EYDILON and he's going all out!
It turns out Eydilon now claims he hails from the darkest planet in the cosmos, Brymstone. Eydilon is forming a deadly new GWF team called DOOM. Who are the members and what are his goals?
Eydilon sports a powerful finisher called MISTS OF EYDILON, which gets stronger the more he wears down his opponent. Who is his shocking right-hand man?
You'll get the whole story when you order FUTURE SHOCK 2131, the newest and more dramatic chapter of GWF history! Go here to order!