Hardcore Legend Necro Butcher Coming to ROH!
Categories: Ring of Honor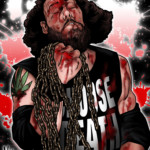 Look out! NECRO BUTCHER is ready for all the legendary hardcore action your Ring of Honor Wrestling Game fed can handle! Filsinger Games and
Ring of Honor are proud to induct the hardcore legend, and legendary Filsinger Games fan, player, and friend Necro Butcher into the ROH Wrestling Game. Choose Death with Necro Butcher when you choose the ROH Legends of Honor 6-pack!
Legends of Honor will start mailing on December 16 after the EXCLUSIVE EARLY RELEASE at Final Battle on December 14! You can pre-order on Black Friday, which is November 29. Watch for more teasers in the weeks ahead!