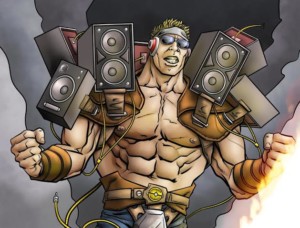 Mad Maxus (Totally Awesome and the Electric Axe) are two reckless youths from the wastelands of Maxus (same as GWF legends Mace and Dreggs, the New Order). What they lack in experience and skill, they make up for with their wild head banging ways! For starters, their ring entrance is completely wild! Totally Awesome comes to the ring equipped with armor making him a living boom box, while the Electric Axe plays their heavy metal theme music with his incredible flame throwing guitar! It's a totally awesome spectacle!
Totally Awesome is the muscle, and the Electric Axe is the speed maniac on the team. Totally Awesome throws his weight around with moves like Monster Machine, Mass Effect, and his self-described finisher, AWESOME FINISHER! Totally
Awesome is a confident young man with impressive power, but he's also a giant green lunk in the ring as he learns the ropes in FTR.
The Electric Axe is a maniac on the guitar, and in the ring! Lacking the skill for an effective wrestling finisher, he instead turns to his trademark flame throwing guitar when desperate for a victory. Once per match, the Electric Axe can try to KO his opponent with SMASH WITH GUITAR! For a team learning the ropes and looking to make waves, it may be a risk worth taking!
Mad Maxus is the first of two fun and innovative jobber tag teams coming your way this December in the new FTR game! Get psyched! Don't forget to enter the FTR Create-a-character contest by November 10 and be part of FTR history! All our new games, including FTR, will be ready to pre-order on November 22! They begin mailing on December 14.