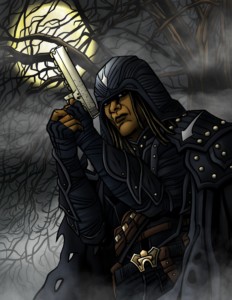 HelSin has had enough.
Crossfire has broken away from the FDF and is targeting HelSin in SUDDEN DEATH 2135. But there's more to this story and wait until you hear why and how it all happened!
But the bottom line is HelSin is fed up. He's had enough of demons and vampires terrorizing the GWF, to say nothing of rule-breakers in general. HelSin has decided if he has to fight fire with fire, he'll do it.
HelSin will be introducing one of the most talked-about finishers in GWF history— the EQUALIZER. Take our word for it, wrestlers like Coven Black, Bishop Hell, and the Code Destroyer are not going to like it! The EQUALIZER will give promoters unique opportunities for in-match strategy in utilizing this deadly new move.
With Double Cross turning on him, HelSin will now be going into singles action with a vengeance. And he's bringing EQUALIZER with him (along with another tandem finishing move, BURIAL). Wait until you see the conditions when EQUALIZER happens and how HelSin is sending a no-nonsense signal to all rule-breakers in the GWF that there is going to be hell to pay!
SUDDEN DEATH 2135 is upon us! It will be one of the most talked-about expansions in Champions of the Galaxy history. Be sure to pre-order and also get the Limited Edition alternate cover version. We aren't printing many alternate covers, so you don't want to miss out!  And very soon you'll see what Godsend hath wrought!