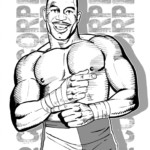 The high flying, hard hitting, 2 Cold Scorpio is coming your way in Legends 13! Scorpio is a master of innovative offense and incredible aerial moves. He is a former tag team champion with such partners as LOW's Sandman and Buff Bagwell. He is well known for his hardcore feuds with Sabu and Mikey Whipwreck, which took place more in the air than on the mat!
The new Legends game (we call it Legends 13 for now but we'll announce the name in the coming weeks!) will start mailing on December 16. You can pre-order on Black Friday which is November 29! THIS HOLIDAY SEASON WILL BE YOUR BEST EVER FROM FILSINGER GAMES! Watch for more teasers in the weeks ahead!
In Legends 13, Scorpio will "drop the bomb" on the LWF! Get psyched!