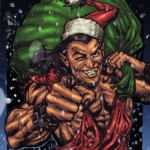 This could be our greatest holiday season ever! There are 4 major releases including Ring of Honor, Chikara, Legends of Wrestling, and Champions of the Galaxy!
Better yet, you can order our 2015 Holiday Package Deal for a discount when you purchase all four! And don't forget, our newest sensation: BEST OF FILSINGER GAMES Starter
Set, makes a great gift for a wrestling fan or game fan.
Don't hesitate. Mosey on over to New Releases and place your order! Games start mailing on December 14. This will be your BEST holiday game season ever!
Whatever you do, don't make Santa Wolf impatient for your order.