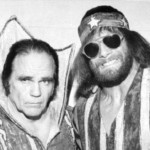 That's the big question on the minds of all LEGENDS OF WRESTLING game fans!
And I join them. As we count down the days to the release of POFFO MADNESS (due on August 26) I've been thinking about how the Poffos will be used in my Legends federation.
I'm planning to bring in all three as a face team called Macho Madness. They'll be introduced one at a time to the rousing cheers of the fans. It'll be a mini "invasion" starting with Angelo Poffo. Angelo will cut some promos knocking my top heel team, the Gang of Four which is made up of World Champion Johnny Valentine, Harley Race, Fred Blassie, and Ivan Koloff. Angelo will be scheduled in a match against Fred Blassie.
All heck will break loose because the Gang of Four will do a "Pearl Harbor job" and gang up on Angelo! This is the Gang of Four sending a message to the rest of the LWF saying "don't mess with us!"
On the next card or soon thereafter "The Genius" Lanny Poffo will make his debut and he will read
a poem that I haven't written yet (!) that will basically say that the Gang of Four have attacked the wrong guy and they'll pay. He'll announce something to the effect that "the madness is coming!"
I'll schedule a tag match pitting Angelo and Lanny Poffo against Harley Race and Fred Blassie and when the heels are winning Randy Savage will storm the ring and attack them! LWF fans will go wild! The Poffos will clear the ring and Randy Savage will announce that he's going after the LWF Belt held by Johnny Valentine! Randy will be given a heroes welcome by my top babyface team led by Andre the Giant and Bobo Brazil.
Mr. Perfect Curt Hennig is also a full-time wrestler and he's a part of the Heehan Family. It's just a matter of time before I team him with The Genius since they have a real-life history together. Then there's the inevitable feud of Randy Savage vs George "The Animal" Steele and guys like Rick Rude!
Just writing this makes me excited to start playing!
It's the glory that is Legends of Wrestling Card Game that you can play a promotion with Angelo Poffo wrestling in his prime along with his sons, Randy and Lanny!
Some other notes about my current Legends fed:
World Champion: Johnny Valentine. He recently defeated Jimmy Snuka for the title. He is scheduled to defend in Cobo Hall against Colt Cabana on my next card.
Tag Champs: Road Warriors. These guys are butt kicking fan favorites in my promotion. They just defeated Mr. Fuji and Mr. Saito on my last card.
United States Champion: Bryan Danielson. Bryan just defeated Diamond Dallas Page to win the belt on my last card! He's on a heel team that includes Sabu.
It's so cool to run a promotion that features guys like Frank Gotch (wrestled 100 years ago!) and Fred Blasie in the ring with Bryan Danielson and Rob Van Dam and everyone in between!
By the way all the photos of Randy Savage and the Poffo family are courtesy of Dr. Mike Lano!
So get psyched! Get your promotion ready because the MADNESS is upon us…