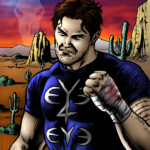 SHAYNE has arrived…and a new era of GWF history beckons!
Shayne was considered the best wrestler in the cosmos that WASN'T in the GWF…until 2129! He'll arrive from the WIC (Wrestling is Cosmic) and he's taking no prisoners!
He was born in Wyoming, America on Earth  and he's traveled the cosmos to make a name for himself in the ring. Don't mess with Shayne, he's a rattlesnake! He's the "Real Ordeal" and "The One Left Standing After SHOWDOWN" which is his finishing move. His famous motto is "Eye 4 Eye" and you'll find out why!
Shayne has recuperative powers like no other. Don't get him angry, he can take a beating and come back like a man possessed! His comebacks are so electrifying they are called "Shayne's Fury." The fans will go berserk!
Speaking of the fans, they've been waiting and hoping that Shayne would enter the GWF during the blight of Black Death. It's a time when true heroes, real down-to-earth men, are sorely needed.
The "Real Ordeal" will shock the galaxy by filling Endgame's vacant spot on Power Force. But can he co-exist with Monolith? And can he stop the rampage of Black Death Endgame?
The era of Shayne will begin in BLACK DEATH 2129! This is the big one!