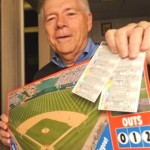 We posted recently a "Best Game Designers of All Time" list at ListNerd and with the support of our incredible game fans they pushed me to the top of the list.
Which I don't believe I deserve but I very much appreciate the support.
It got me to thinking about games and how much they have meant in my life. I am a game fanatic. The front closet in our home has dozens of games and upstairs there are a dozen more.
Every Christmas when the kids were young I bought games for us to play as a family. Everything from "Don't Wake Daddy" to games no one has ever heard of.
I'm not a one-genre guy, so the games I enjoy cut across a lot of categories.
As an adult I have enjoyed social games to play with friends and relatives. It sure beats boring conversations about the weather. Games like Loaded Questions, Apples to Apples, ImaginIff, and Ultimate Outburst are a fun way to pass the time, always good for laughs.
With closer friends it's fun to delve deeper. The regular version of Loaded Questions is fun (players answer questions anonymously like, "What super power would you want to have?" and one player must determine who said what) but the adult version is even better with people you're comfortable with. It gets naughty and that's great for late night laughs and mischief. Other great games of this ilk are The Dirt Game and I've Never…The Game of Truth. You need to play these games with people you are comfortable with and who don't get embarrassed easily.
The best new game on the outrage and craziness scale is Cards Against Humanity, one of my new favorites. You have to play this to believe it. It's like Apples to Apples except on LSD. You can only play with people who are open-minded and somewhat outrageous. Having a twisted sense of humor helps.
Some social games are more demanding. I love them but some people don't want to think or work so hard when they are playing a game. These include Dixit, DiceCapades, and The New Yorker Cartoon Caption Game. The last one requires players to write funny captions for New Yorker-style drawings of funny situations. Players have their captions read aloud anonymously and players vote on the funniest caption. This requires creativity, a sense of humor and a strong ego, hence it's hard to find people to play with!
I also purchase games based on TV shows or movies that we like. That includes a Doctor Who game (simple fun), Walking Dead (too complicated), The Office, and Baker Street. Baker Street requires players to solve murder mysteries based on real cases getting several minor clues one at a time until they think they can solve the case. In that way it's very realistic. It is also a demanding game and takes as long as two hours to play.
As far as thinking games my favorite is Super Big Boggle. This is a game of finding words in a mixed array of letters. I play almost every night, especially during cold, long winters like this one. Boggle is a word game and I love it although ironically I don't like Scrabble.
As for games that teleport me to another place, those would be my absolute favorites. That includes Strat-O-Matic Baseball which I have played religiously since I was a teenager. I'm a baseball statistics buff so the reward for playing a full 162-game season for my teams is the final stats which I compare to the real stats of the players. For example if Roger Maris hit 60 home runs for the Yankees in 1961 I'm curious how many he'll hit over a full season for my team. One time I drafted him and I believe he hit 65 and with no steroids!
I play Strat-O-Matic with my long-time friend Jeff, but also sometimes alone as playing our own teams against each other is part of our season schedule.
Another game I have played often (but only if there are other players around) is Magic: The Gathering. I love creating offbeat and creative decks, not the cookie-cutter ones. I created an "unblockable" deck that has done great and part of the reason is experienced Magic players have never seen anything like it and they're taken by surprise.
My favorite (and I"m not kidding) is Champions of the Galaxy. I've been playing a regular fed since 1988, that's 26 years! There's no end in sight. This is a game I can play alone and really passes the time because it's a blend of structured stories and spontaneous creativity. You never know what the matches will be like, anything can happen. I play Legends of Wrestling on and off but Champions of the Galaxy will always be my favorite.
There are tons of other games I haven't even mentioned that I have loved over the years including Risk and a game many people have never heard of called the BattleBall Game. It's a futuristic football-type action game, very addicting.
My hat is off to the creators of these fantastic games, especially Hal Richman (pictured above) who created Strat-O-Matic which turned out to be a big influence on me.
If it seems weird that I would promote other games at this web site then so be it. The way I see it we'll all in this together, all the game companies, all the creators. I applaud them.
I can only hope that my games have given players half the enjoyment that these games have given me. It's a great gift—the gift of fun.
Until there's a Champions of the Galaxy deck in Magic: The Gathering…