It's Time to Go to Work with CHIKARMY 2!
Categories: Chikara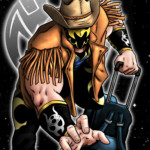 The CHIKARA Wrestling Game is packed with Ants! Soldier Ant, Fire Ant, Green Ant, combatANT, assailANT, deviANT, and here comes one more from rich history of CHIKARA's past – WORKER ANT!
Worker Ant will be plenty busy with loads of allies and enemies to tangle with when he debuts in your fed, promoter! Hardcore CHIKARA fans everywhere are chomping at the bit to put Worker Ant in the ring with the man who injured and retired him, Chuck Taylor! Will Worker Ant get revenge in your corner of the universe? Find out when CHIKARMY 2 arrives at your door step!
CHIKARMY 2 starts mailing on Oct 15! The lineup has all been announced so be sure to order NOW to get it fast, it may start mailing sooner! And don't forget to add KOBALD to your order and DARK MENACE FORCES if you
don't have that yet! Go here to order our awesome new releases!