Jay White is the First Name in the New Ring of Honor Game!
Categories: Ring of Honor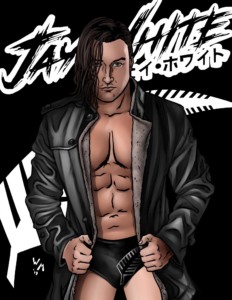 Kicking off the newest Ring of Honor 8-pack is a man who is making waves in Japan, "Switchblade" Jay White.  The New Zealand born wrestler got the opportunity to train as a young boy in Japan, wrestling against some of the most talented wrestlers in the world and even picking up a surprising win against Kenny Omega.  In June 2016 he ventured away from Japan on a learning excursion to the United States and joined the Ring of Honor roster.  In ROH he was part of the Search and Destroy stable and had a number of classic singles and tag team encounters.  Although he did not win any gold during his Ring of Honor run, he was able to challenge for every ROH title.  Its only a matter of time before this young talent wins gold on a major stage, especially with his recent return to Japan.
Jay White will be part of an 8-card Ring of Honor game pack being released this holiday season along with the newest legends of Wrestling 12-pack and the new Champions of the Galaxy FTR game.  Preorder begins on Black Friday November 24th and games will be mailed by December 12th!