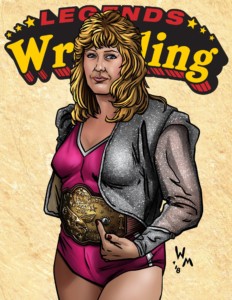 Many times a tag team champion, Judy Martin is set to enter YOUR Legends promotion!
The new Legendary Ladies of Wrestling pack will begin mailing in two weeks and it'll add a whole new dimension to your game fed. Judy Martin formed a successful team winning tag gold with Leilani Kai. Will Martin have success in your promotion?
Legends: Ladies Expansion is now available for preorder HERE.  Also available now is a Limited Edition card for Texas Legend Johnny Mantel HERE.