All Hail the King! Kenny King Returns to Ring of Honor Game!
Categories: Ring of Honor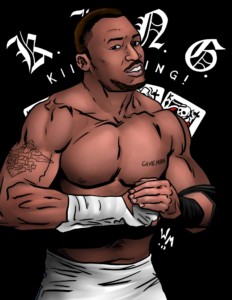 For years Kenny King was best known as a tag team wrestler in Ring of Honor, alongside Rhett Titus in the All Night Express.  The duo had captured the World Tag Team championships before King left ROH in 2012.  Upon his return in 2015, they reformed the All Night Express and eventually formed the Rebellion faction with Caprice Coleman.  The group had some success before ultimately losing a match at Best in the World in June 2017, and the group was forced to disband.  This thrust Kenny King into a singles role for the first time in Ring of Honor and he thrived winning the ROH Television Title at Death Before Dishonor XV in September.  He is a fighting champion and has already successfully defended it multiple times.  Will King's singles career continue to grow and can he ultimately capture the Ring of Honor World Championship?
Kenny King joins Jay White and the Beer City Bruiser in the 8-card Ring of Honor Top Prospects game pack being released this holiday season along with the newest Legends of Wrestling 12-pack and the new Champions of the Galaxy FTR game.  Preorder begins on Black Friday November 24th and games will be mailed by December 12th!