Ladies of the Indies is On Fire with the Addition of Kiera Hogan!
Categories: Uncategorized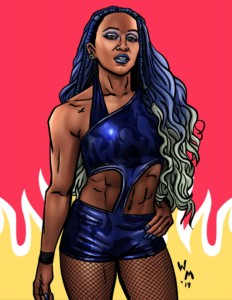 Indie fans know there is only one Hogan that lights up the rings these days, its Kiera Hogan!
Kiera is the final name in the Ladies of the Indies 2019 8-pack.  While she isn't the biggest competitor, her quickness and strength have helped her become a force in the indie women's scene.  Hogan started her wrestling career in Georgia, before branching out throughout the country appearing at all the major women's promotions including SHIMMER and WSU, where she won the Spirit Championship.  Now she regularly appears on national television and this "Girl on Fire" is sure to continue to blaze her own trail in pro wrestling.
Kiera Hogan joins Kris Statlander, Xia Brookside, Holidead, Scarlett Bordeaux, Allie Kat, Faye Jackson, and Kris Wolf in the Women of the Indies 2019 8-Pack.  The set will debut alongside the Best of the Indies 2019 8-Pack which features 8 of the top male indie wrestlers in 2019.  Both games are available for preorder now, by going HERE.  Games will ship by September 30th.