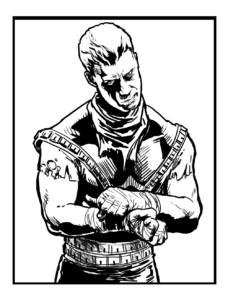 Who is this guy and what's going on? For you sleuths trying to figure out what's coming in the epic game expansion, KINGDOM COME 2134, it's a very challenging clue!
This is an unused first draft for a 2134 game card. We'll say nothing more about it and leave it to you to lose sleep at night trying to figure it out!
Watch for the first OFFICIAL 2134 sneak preview card NEXT WEEK!
Get psyched, promoters! Epic cosmic drama will soon unfold in KINGDOM COME 2134, which will be released at GalactiCon 2018 in Pittsburgh and then the rest of the game galaxy soon thereafter!