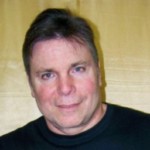 The View #5 is coming on August 14 and it's going to be special!
The Filsinger Games podcasts are attracting more and more listeners and this show will be one of the biggest because of two special guests: Wrestler Lanny Poffo and Champions of the Galaxy artist Darryl Banks.
Lanny Poffo, brother of legendary wrestler Macho Man Randy Savage, spoke with Tom and Wiggy about how excited he is to have his family immortalized with three playing cards in the Poffo Madness 3-Pack. "There was no bureaucracy at all. I said go ahead." He also likes Steve Stanley's card art. "I saw some of the art and I'm very impressed."
Lanny spoke about the controversial issue of whether the Poffo family will be inducted in the WWE Hall of Fame. "I predict it never happens," he said. Later he added, "I'm not standing in the way of Randy going into the Hall of Fame. All I ask is leave me out of it because I knew what his wishes were."
"The Genius" also spoke about several legendary wrestlers (all of which are represented in the Legends game) including Jimmy Hart, Curt Hennig, and Bobby Heenan.
Lanny went on to display his incredible genius memory skills by reciting no fewer than seven poems by heart on a variety of topics from wrestling to sports to dogs and even a great poem about the Macho King Randy Savage! Game fans will want to use this poem to introduce The Genius and Macho Man in their promotions! The poem also name checks Hacksaw Jim Duggan and Sherrie Martel.
In addition to talking about a book he wrote for children on the dangers of smoking and his love of baseball, The Genius even grabbed the host reigns and interviewed co-host Wiggy!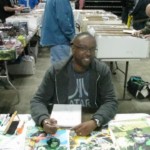 Darryl Banks, game artist for Champions of the Galaxy for over ten years, also provided memorable moments during his interview. This is the first time that GWF fans can hear Darryl talk about the game (short of seeing him at a convention) and what it's like working with Tom.
Darryl discussed what he considered some of the easiest characters to draw in the game (can you guess the easiest?) as well as the challenges of redrawing classic characters like Wolf and Star Warrior for the Originals packs. He talked about his favorite story arc (can you guess that also?) and the future of the GWF.
Also known for his work in the comic book field, Darryl talked about his classic eight-year run on Green Lantern in the 1990s. This is an interview you won't want to miss!
In
fact the whole show is classic! Be sure to catch The View #5 as Filsinger Games soars to greater heights of glory! It will be posted on August 14 at 8 pm at "filsingergames.com".