Laredo Kid is Looking to Make a Splash!
Categories: Uncategorized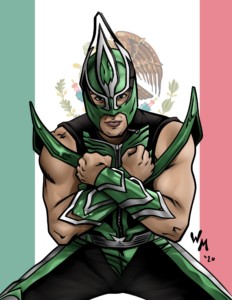 While still a young luchador, Laredo Kid has made his mark not only in one of the largest promotions in Mexico, but also in multiple indie promotions throughout the United States.  He is accomplished as both a singles and tag wrestler, having won gold in his home promotion multiple times as both a cruiserweight and as part of a trio of other high flying luchadors.  While Laredo Kid's high risk style has led to multiple injuries, it has also propelled him to featured roles in many US promotions. In one famous tag match for a well-regarded California based promotion, Laredo Kid worked opposite Flamita and Bandido in a trios match that many wrestling journalists gave a five star rating.  Despite all of his promising showings, he has never won gold in the U.S. Will he do so in your promotion?
Laredo Kid joins Flamita in the Best of Mexico 8-pack.  The set will debut in March along with Legends Ladies 2 and Future Shock 2116!