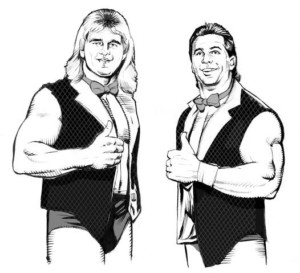 Watch out LWF! Bobby Fulton and Tommy Rogers are ready to climb to the top of the tag rankings!
They'll have lots of scores to settle with feuding enemies like the Midnight Express, Sheepherders, and Steve Williams and Ted DiBiase already in the game. But with the high-flying skills of the Fantastics, you'd be foolish to bet against them. Fulton and Rogers won tag gold in many different promotions, so they mean business!
The Fantastics will bring a stellar tag team to Legends as Filsinger Games officially closes out the classic black and white card era! Celebrate with us in Fantastic fashion by pre-ordering on Sunday, November 22. Legends Final Chapter, as well as ALL our holiday releases, will begin mailing on December 14. It'll be the most Fantastic holiday of all time!