Grab a Light Beer and Toast to the Arrival of Mance Warner!
Categories: Uncategorized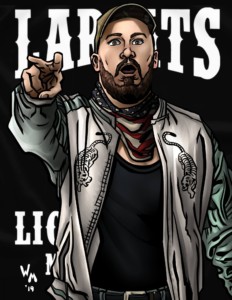 That's right folks!  The next name in the Best of the Indies 2019 set is a man of many nicknames, the "Southern Psycho" Mance Warner!  Ol Mancer has certainly made a name for himself all over the independent circuit this year, facing a who's who of wrestling.  The "Eye Poke God" came to prominence in the midwest and mid south areas, but has branched out more in the past year gathering many accolades including winning the CZW Championship and making it to the finals of the AIW JT Lighting Tournament.  Warner is now appearing frequently for some national promotions, impressing fans with his brutal lariats and infectious personality.  Try not to get a shocked look on your face when you witness the heights Mance Warner will continue to hit in his burgeoning career.
Mance Warner joins Josh Briggs, Anthony Greene and Robbie Eagles in the Best of the Indies 2019 8-Pack.  The set will debut in September alongside the Women of the Indies 2019 8-Pack which features 8 of the top female indie wrestlers in 2019.