Matt Taven is Bringing all the Hoopla to New ROH 6-Pack!
Categories: Ring of Honor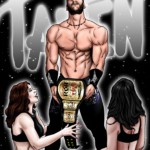 Another Ring of Honor champion is coming to the new ROH 6-Pack!
Matt Taven has been wrestling for Ring of Honor for years, but only after a recent career decision has his profile in ROH really risen.  Taven took part in the 2013 Top Prospect tournament, making it to the finals before ultimately winning thanks to the assistance of Truth Martini.  Under the guidance of Martini, Taven went on to win the ROH TV Title and cement himself as a force in the promotion.
Thanks to his athletic prowess and timely interference from his mentor and the lovely Hoopla Hotties that accompany them, Taven has a successful title reign that he looks to continue for a long time.  There's no telling the heights this House of Truth disciple can reach and you'll find out when the Ring of Honor 6-Pack is released!