Melanie Cruise Looks to Impose Her Will in New Shimmer Pack!
Categories: Uncategorized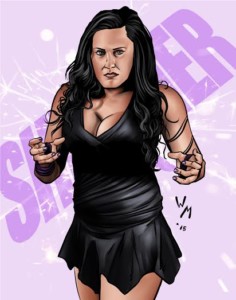 Melanie Cruise debuted in Shimmer in 2009, and in the past seven years has
been an imposing figure at 6 feet tall, towering over many of her opponents. Cruise has no qualms about showing her disdain for everyone, brutalizing her opponents before finishing them with her elevated spine buster aptly named MELANIE'S SPINE SPLITTER. How will she fare against Vanessa Kraven? Cruise has seen success in both the singles and tag team ranks of Shimmer and has traveled around the global to continue to develop her skills in hopes of challenging for the Shimmer title. Will she win it in YOUR game promotion? Find out! The new Shimmer V3 pack is ready to order! Go here and experience the Diva Revolution!